A look back: Alpine IQ's Customer Success department was formed in November 2020 when Alpine IQ was supporting under 100 stores across Canada and the US. Less than 2 years later, our Customer Success department has continued to double and is now supporting over 2500 stores.
Our dedication to coaching, advocating, and providing trust to our customers, is Alpine IQ's #1 focus. Our Customer Success team is constantly at work to ensure that our customers feel heard, important, and appreciated as a partner of AIQ.
Our Customer Success team is the heart of Alpine IQ. Which is why wanted to create Alpine IQ's first ever Customer Success Appreciation Week. During the Week of May 23rd-27th, we recognized all of our amazing Customer Success team on socials and launched our very first Customer Success Member of the Year. This years Customer Success Member of the year awards went to Jill Inman, Senior Customer Success Manager. During CSM Appreciation Week, we aimed to put CSMs, their work, and their value front and center.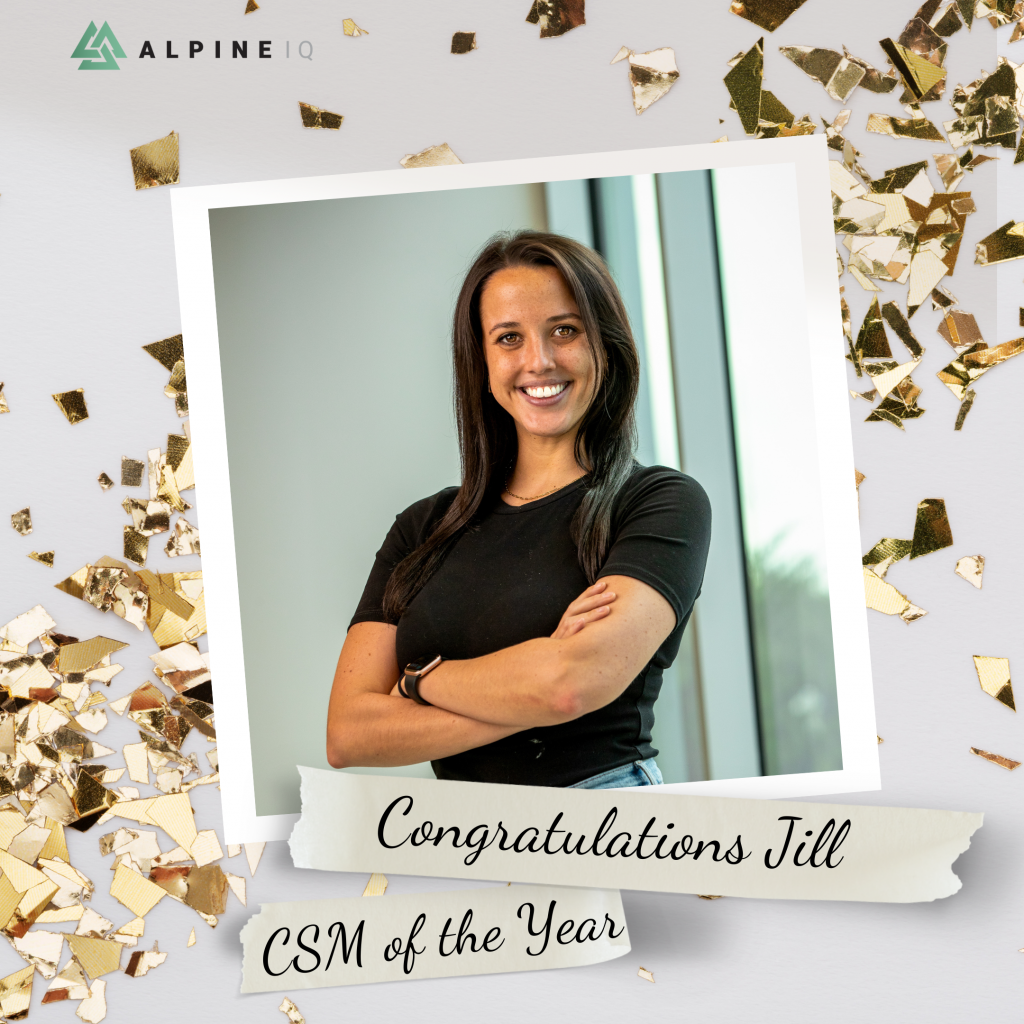 We sat down with Jill to find out more about her time at Alpine IQ.
Could you tell us a little bit about yourself and what you do at Alpine IQ?
I'm Jill. I live in Dallas, TX with my two dogs! I graduated from the University of Arkansas and I'm a Senior Customer Success Manager at Alpine IQ.
What led you to work for Alpine IQ?
I found the position listed on LinkedIn and I applied!
What does a typical work day look like for you?
I check my client's campaigns and answer my emails. I meet with clients every day over Zoom and work with my colleagues out of Slack.
How do you like working in this industry? Did you ever think you'd be working in this field?
I love it! I did not think it would be an option for me since I live in Texas, but I'm so lucky that AIQ found me!
What is the most rewarding aspect of your job?
Being able to help clients and see their success over time. I love teaching them about AIQ's capabilities. It's great to see a client be able to navigate the platform like a pro.
What are some tips you can give for being a superstar Senior Customer Success Manager?
Try to be as proactive as possible. Advocate for your client. Remember your client's wants and needs and be sure to communicate those things have been accomplished/rolled out for them. And always be honest and open!
To get the latest updates on our suite of services, make sure to subscribe to our blog today!