Let's talk about your customer data. Are you confident that the data you currently have for each of your customers is completely accurate, up-to-date, and reliable across all of your integrations?
Currently, only 50% of all businesses have customer data they can trust. This is because putting the customer journey together into one view and ensuring that the same data is being used across every integration and marketing is an extensive task.
Without reliable customer data, your ability to personalize experiences rapidly dissipates, analytics insights are limited, and marketing can't optimize the customer lifecycle. Not to mention that inaccurate or outdated customer data can also open up your dispensary to fines or even revoked licenses.
Create a single source of truth with Alpine IQ.
Rather than having customer data spread across multiple systems and tools, Alpine IQ combines data from all of your integrations so that they speak as one to produce a single, comprehensive view of each customer.
This single view helps align everyone in your company to understand each customer in the same way. Ultimately this will provide a consistent customer experience regardless of which part of your company your customers are interacting with.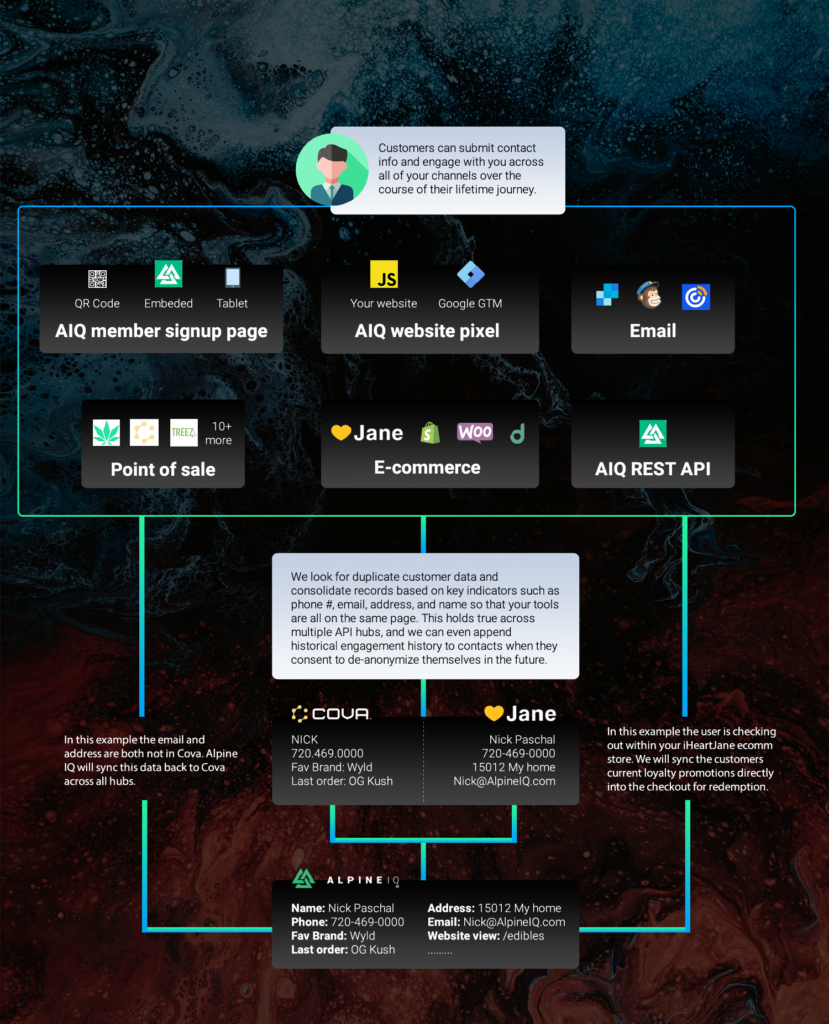 With Alpine IQ's Data Ingestion, You Can:
Prevent dirty data from compounding as you migrate and utilize tools 3rd party tools
Pull data from anywhere and get cleansed enriched customer personas
Save cumbersome integration and maintenance time
Sync customer data privacy preferences across all your tools
Build audiences based on accurate, real-time data without relying on other teams. Then, send those real-time audiences downstream to every integration
Keep logs of customer interactions for regulatory audits
Do you need cannabis data management help? Schedule time to connect with us.