According to the Baymard Institute, the average cart abandonment rate is 69.57%. This means that nearly three-quarters of online shoppers are going through the buyer's journey and leaving before they complete their purchases.
This costs the eCommerce industry an estimated $4.6 trillion in lost sales every year. However, an effective cart recovery campaign can help reduce abandonment rates by reminding customers that they still have items in their cart.
While email marketing has commonly been used for abandoned cart campaigns, we see more success through SMS campaigns. With people more likely to check their phone than their email inbox, an SMS message can drive an immediate response from shoppers. In fact, we have seen that SMS marketing has a conversion rate 8x higher than email. More specifically, for abandoned cart SMS campaigns, the average click-through rate is 36%, compared to email campaigns at 3.2%.
Text message examples:
Here are a few ways you can use SMS messages to help your abandoned cart recovery strategy.
1. Send Friendly Reminders
There's a chance that an online cart has been abandoned because your customers simply forgot about it. In this case, all they need is a reminder to revisit your website, which is why an SMS is a great tool to use to remind them.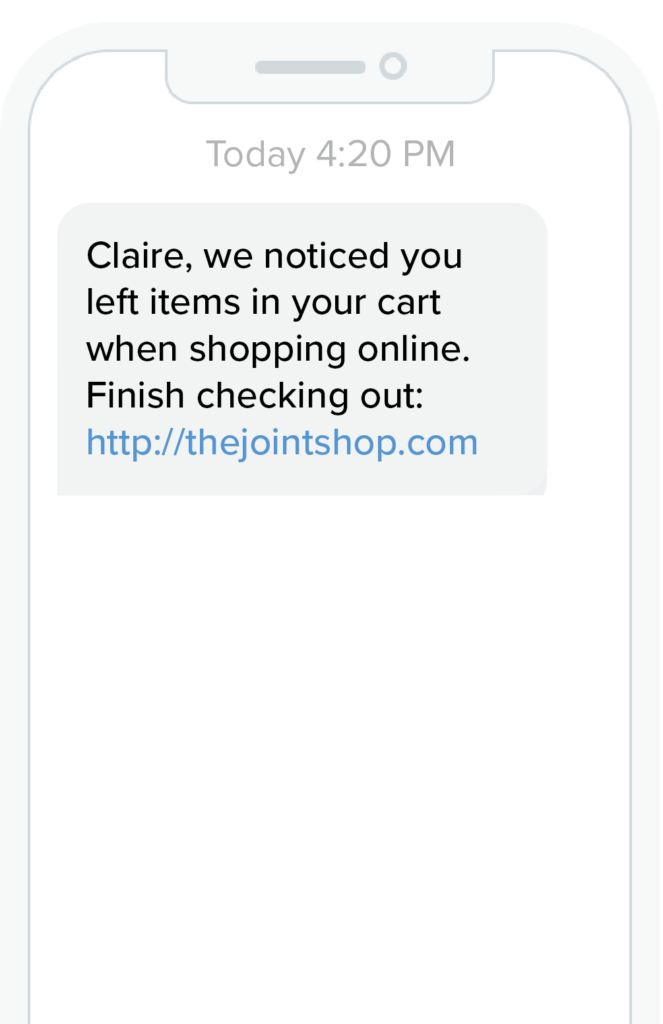 2. Provide Your Customers With Discounts
Since the top reason behind cart abandonment is unexpected costs and delivery fees, we recommend offering a discount on your abandoned cart recovery message. This means most lost sales have a high chance of getting converted with the first text message less than half an hour after the cart is abandoned.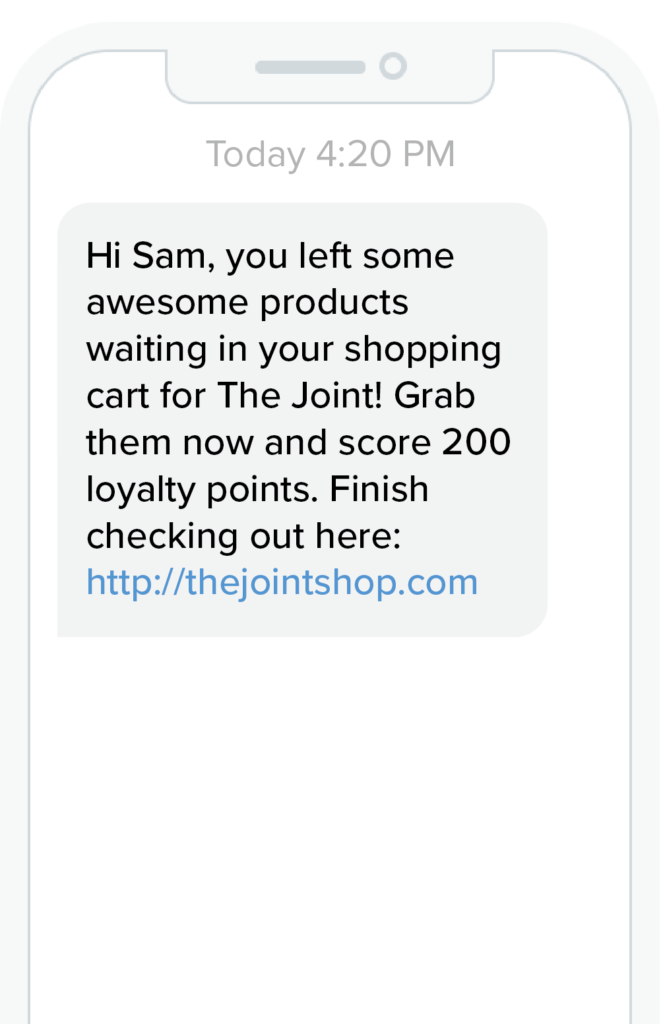 Best Practices:
In addition to these strategies, here are some other abandoned cart best practices to keep in mind when you're writing your texts:
Start with the customer's name to make it more personal– 80% of online shoppers are inclined to purchase from a brand if it delivers personalized marketing experiences.
Have a clear call to action (CTA)- This is the heart of your text message reminder for customers who abandon their carts, so it's important to make your main value proposition as clear and actionable as possible.
Promote Urgency– Customers abandoning carts implies that they're okay with the risk of an item disappearing on them. You want to ensure that customers feel a little bit of that pressure by letting them know the item won't last forever. Come at your customer with an act now approach. Words like "items going fast" and "your cart is expiring" are non-confrontational ways to inspire scarcity.
Keep it simple– Your abandoned cart text message isn't the time to push other sales agendas. You want to keep your customers focused on their one purpose: the abandoned cart.
How to send Abandoned cart messages with Alpine IQ:
Thanks to our integration with IHeartJane, you can automatically generate abandoned cart text messages with Alpine. For all IHeartJane users, here's how to send abandoned cart messages with Alpine:
Step 1. In the Alpine Dashboard, select "Connect Data"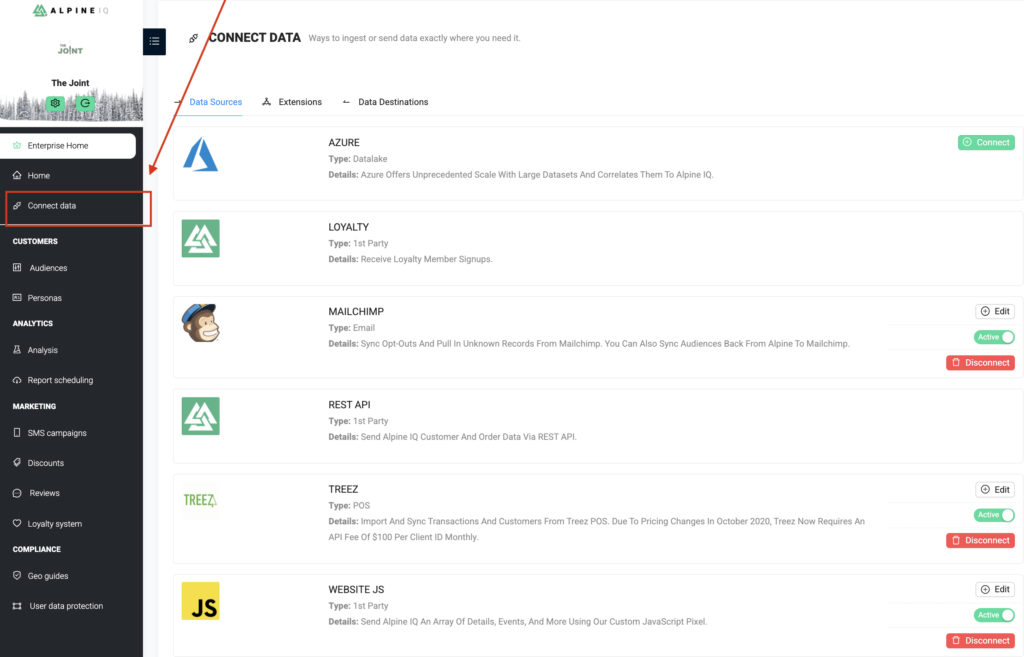 Step 2. Select "Data Destinations"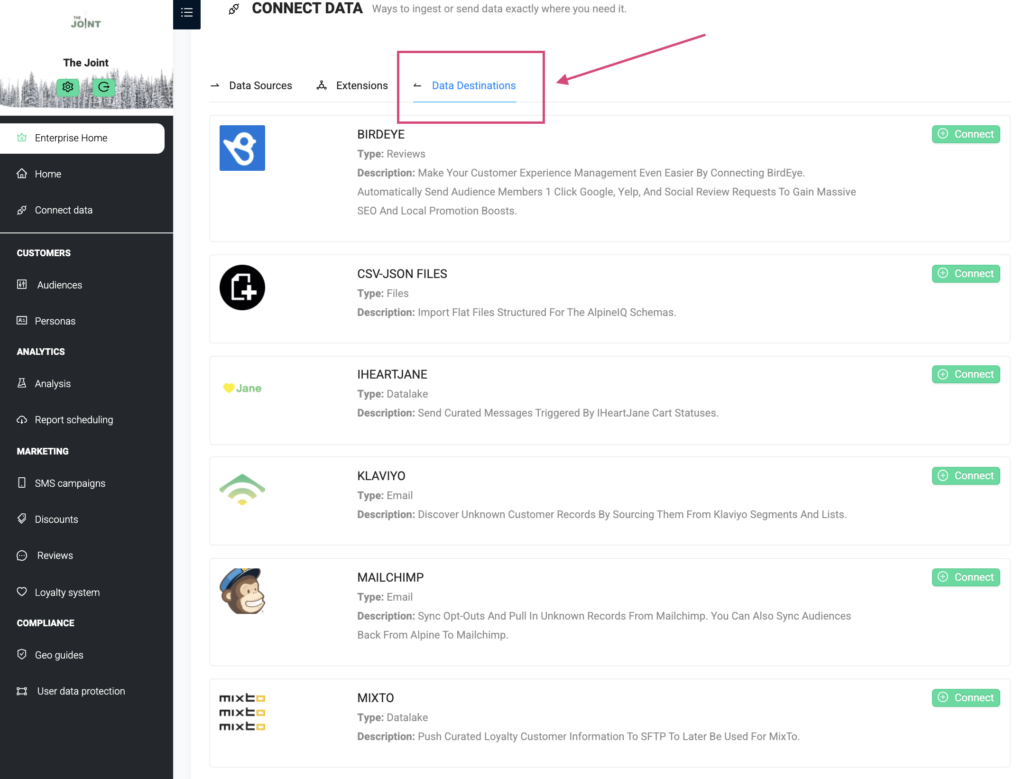 Step 3. Select "Connect" next to the Jane integration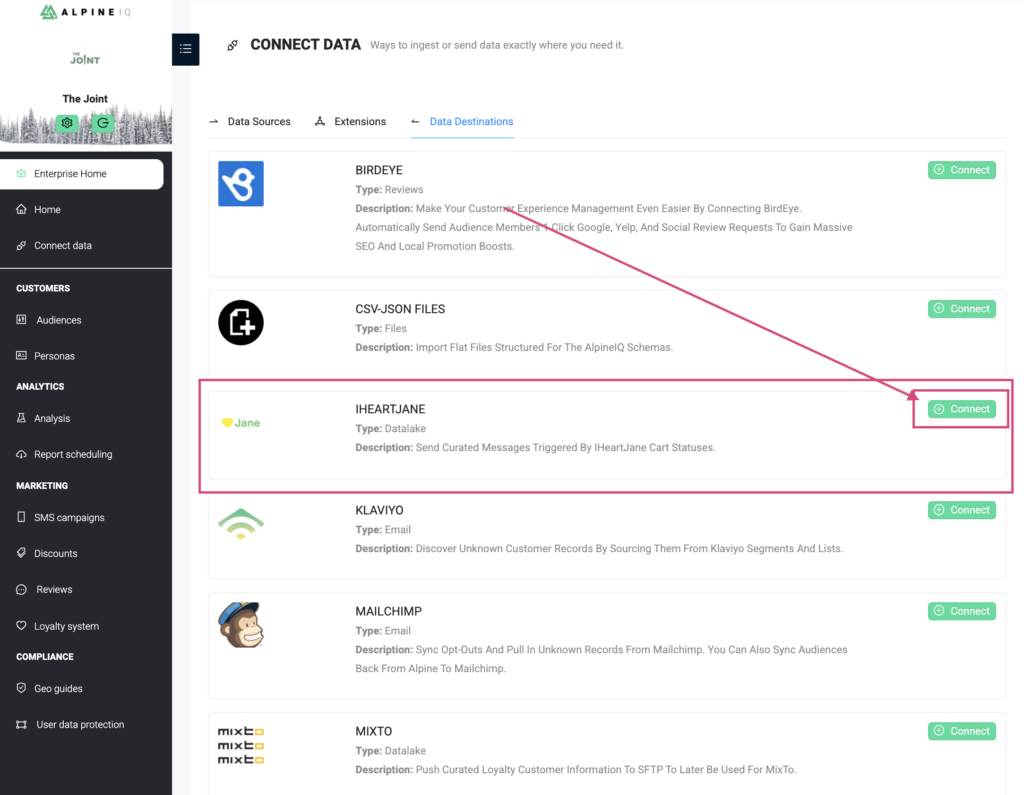 Step 4. Insert API Key from IHeartJane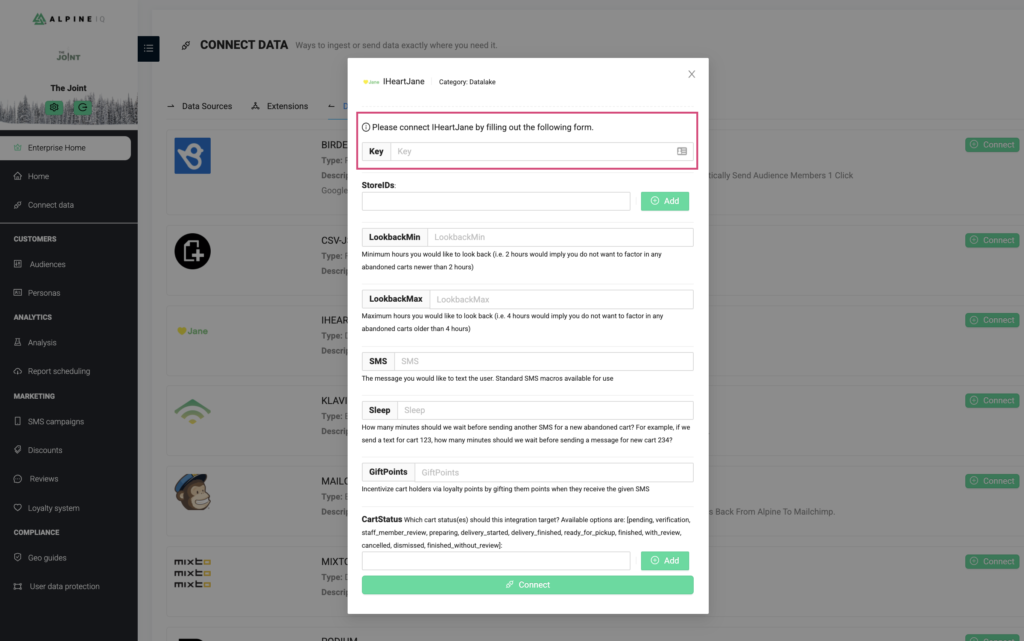 Step 5. Insert the StoreIDS that you want to use to send the campaigns out from and click add:
Step 6. Set your LookBack Min – This is the minimum hours you would like to look back (i.e. 2 hours would imply you do not want to factor in any abandoned carts newer than 2 hours) – **We recommend using "24" for 24 hours.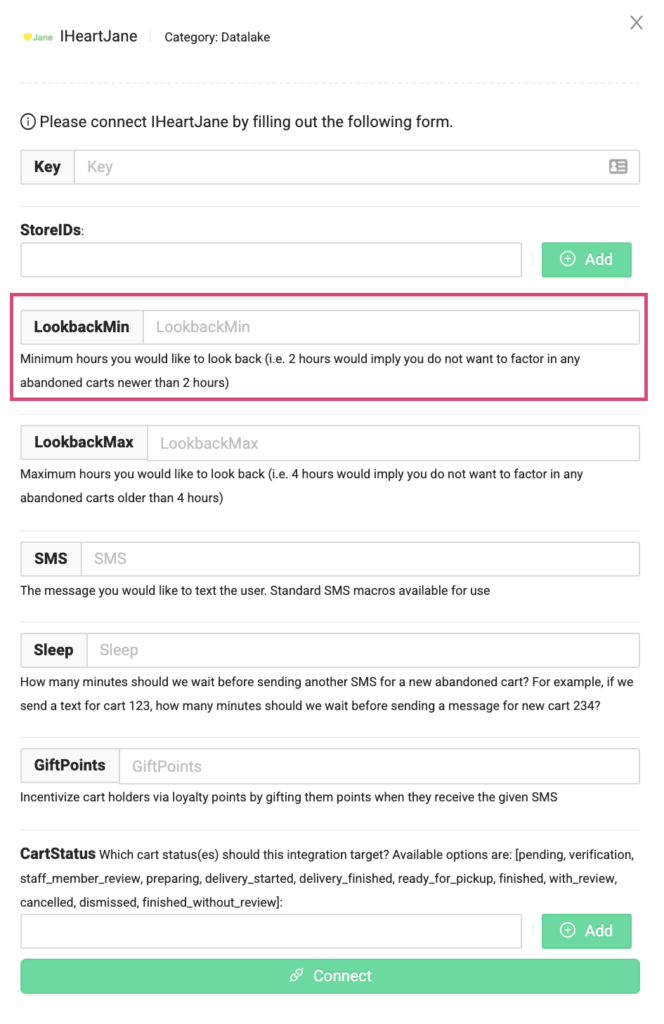 Step 7. Set your LookBack Max – This is the maximum hours you would like to look back on ** We recommend using "48" for 48 hours.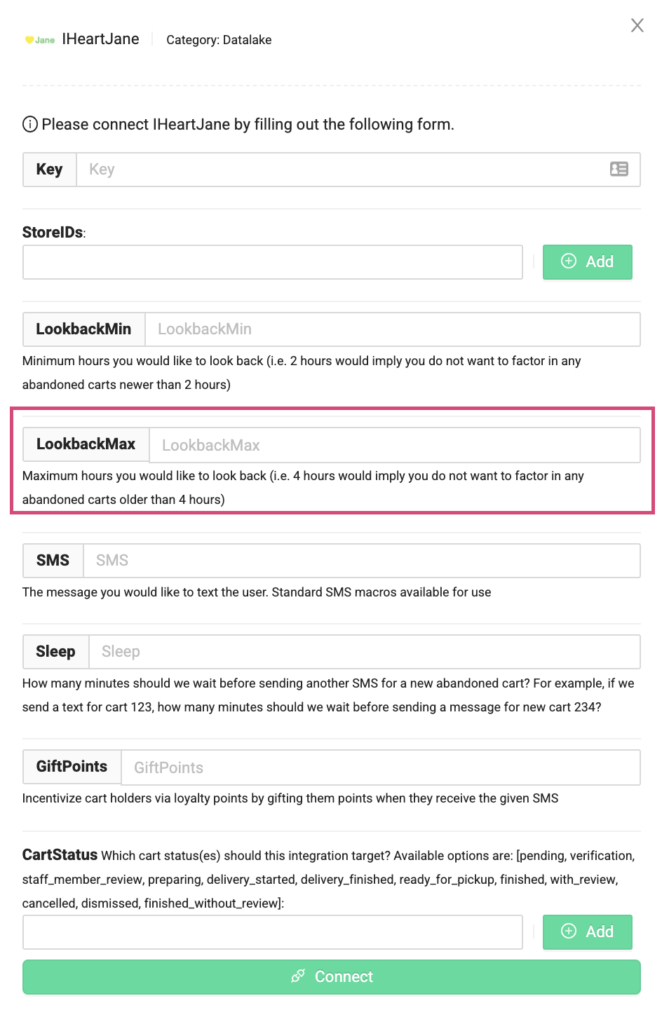 Step 8. Enter what you want the SMS campaign to say. Please note that you can use all Macros for this.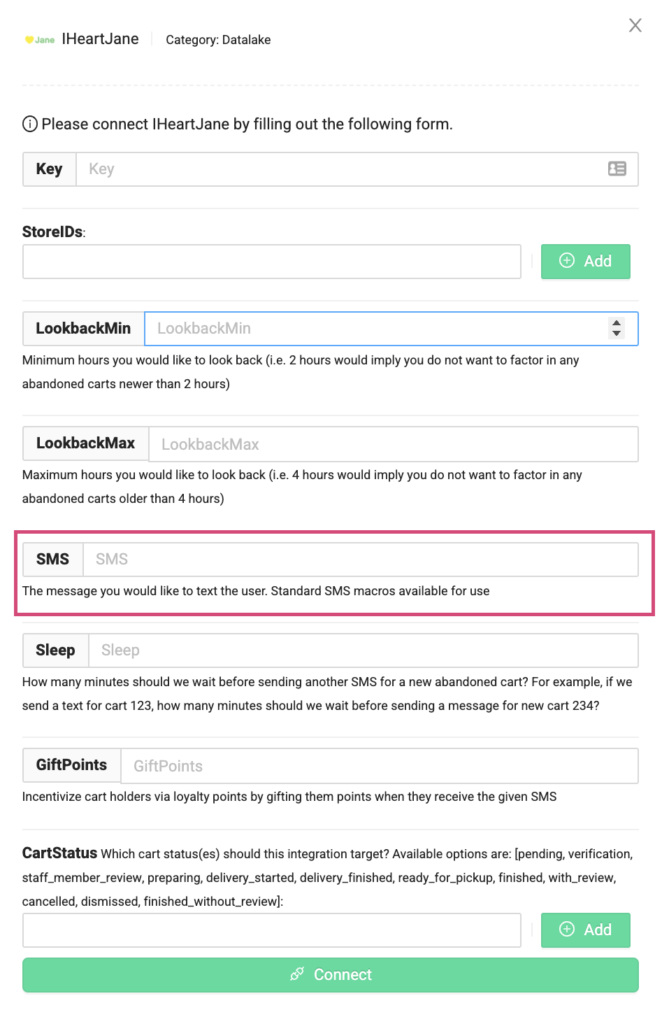 Step 9. Enter the number of minutes to sleep – This is how many minutes we wait to send out a new SMS message for a new abandoned cart to the same user.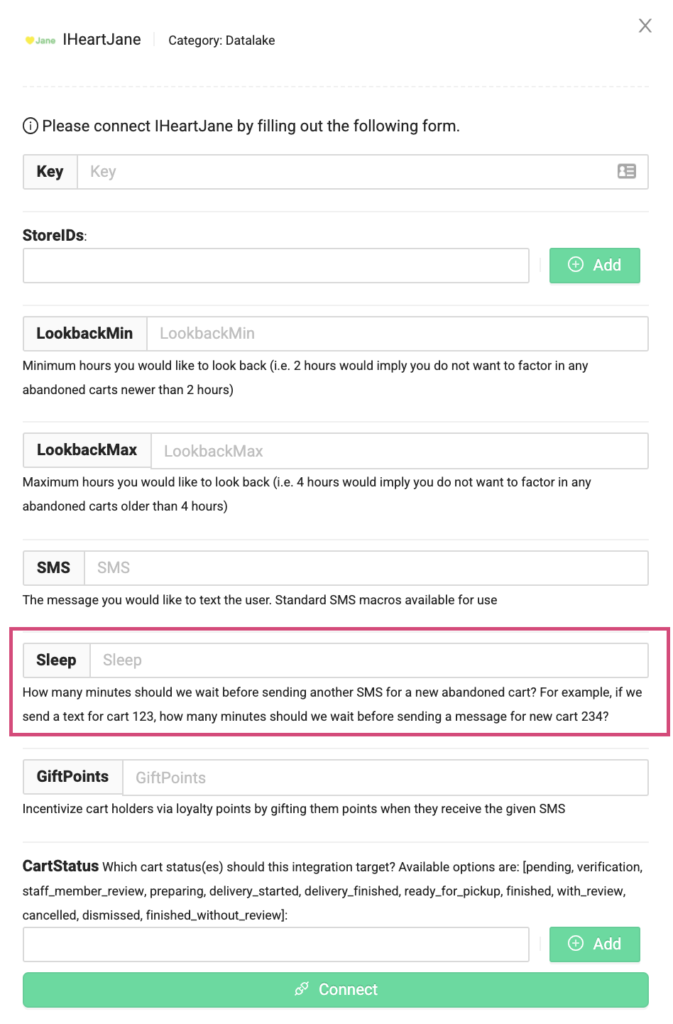 Step 10. Enter the points you would like to gift them with to incentivize completing the purchase. (This is optional)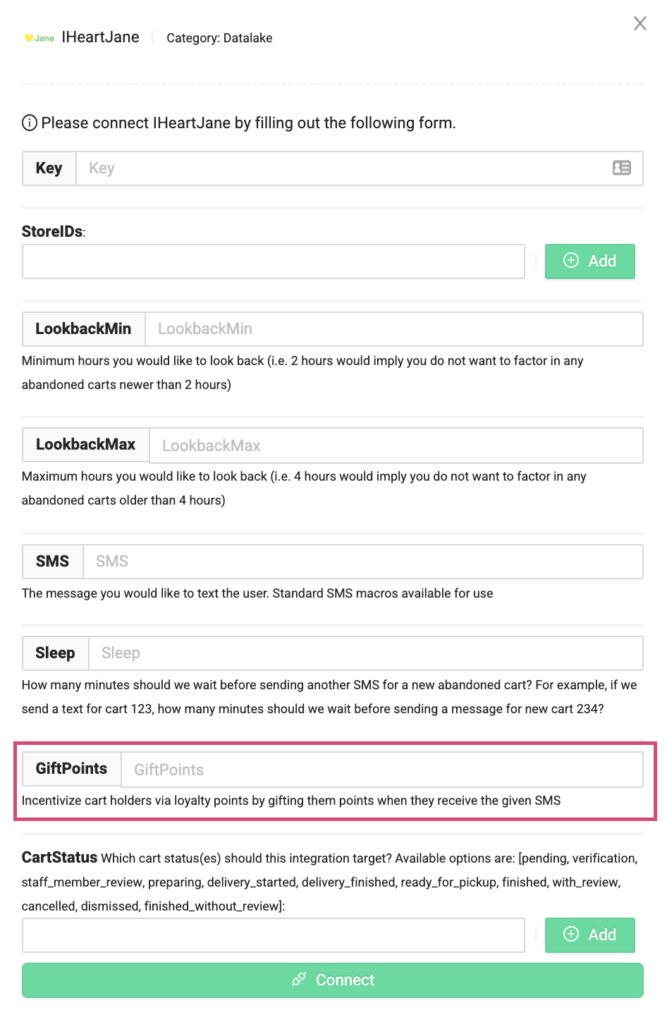 Step 11. Input "pending" under Cart Status and select add. This means that this text message will go out when the cart is still "pending," aka not purchased yet.
Step 12. Select "Connect" and then you are all setup!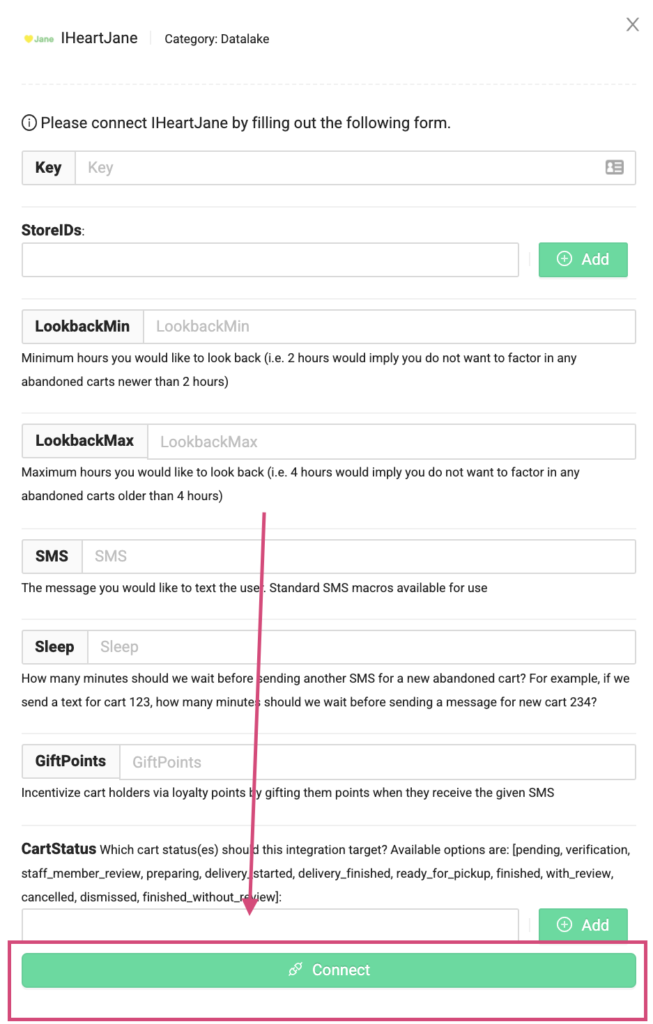 Ready to get started with Alpine IQ?
To get the latest updates on our suite of services, make sure to subscribe to our blog today!